Mission Statement
Trinity's Mission is to lead people:
to

know

Christ as Savior,
t

o

grow

in
Christ,
to
serve
Christ,
to

share

Christ.
What is a Christian Reformed Church?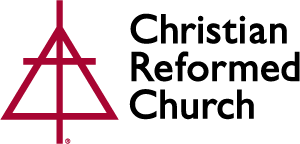 We call ourselves
Christian because we belong to Jesus Christ and want to be his followers. We recognize as fellow-Christians all people who accept the teachings of the Bible as summarized in the Apostle's Creed.
Reformed because we're part of that historic branch of the Christian church that follows the teachings of 16th-century reformer John Calvin, who struggled to return Christianity to its biblical roots.
Church because God has called us to be a fellowship of his people in the world.
We often call ourselves "CRC" for short.
Our emblem
Our emblem is the cross in a triangle.
The triangle represents the Trinity, our belief in the one God we know as three persons: Father, Son and Holy Spirit. The cross symbolizes our belief in Jesus Christ's sacrificial death for our salvation.
For more information please visit